Dryer Repair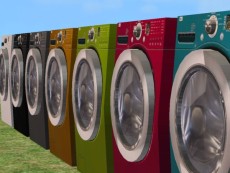 Whether your clothes come out of the dryer still sopping wet or your dryer has started making ominous sounds, Michael's Services is here to help. Our team of washer dryer repair experts has more than 30 years of experience in professional dryer repair, and we have the knowledge you can count on for thorough troubleshooting and dryer repairs. We offer accurate assessment of your dryer problems, providing expert repairs whenever possible and recommending dryer replacement when necessary. Your resource for affordable, effective washer and dryer repair in Phoenix, Michael's Services can help take care of all of your clothes dryer repair needs.
Providing dryer repair service for most every major make and model, Michael's Services is ready to help no matter what type of dryer you have. We offer both electric and gas dryer repairs, and we specialize in safe, complete repairs on all kinds of dryers. We'll start with a full inspection and examination of your dryer, pinpointing the root of the problem as well as its symptoms. Once we know what's wrong with your appliance, Michael's Services can provide fast, efficient repairs to get your dryer working again fast. While some specialty parts may have to be ordered, we stock most common washer and dryer repair parts in our trucks, enabling us to provide on-the-spot repairs for many dryers. Emphasizing careful craftsmanship and top-quality customer service, we're here to take great care of you as well as your clothes dryer repair needs. Don't just let the laundry pile up because the dryer isn't working. The experts at Michael's Services are here to bring you the very best in dryer repairs in the Phoenix area. Call today to schedule your repair service! 
Don't forget: We specialize in GE dryer repair!
Commercial Dryer Repair
In addition to providing dryer repair service for homeowners, we also provide commercial dryer repair. At Michael's Services, our team of knowledgeable professionals has the hands-on expertise you can rely on for the best in commercial dryer service, maintenance, and repairs. We provide complete diagnostics and repairs to help get your commercial dryer back in peak working order. Ideal for limiting disruption to business at laundromats, assisting hospital and nursing home laundries in running smoothly, and keeping apartment complex dryers in good repair, our commercial dryer repair services are your answer for punctual, quality service at a great price. Have questions? Call Michael's Services to learn more about commercial washer dryer repair and your dryer!
Washer Dryer Repair
Clothes Dryer Repair