Refrigerator Repair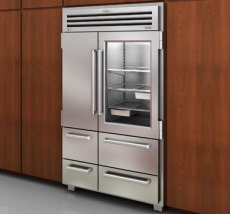 When your refrigerator is malfunctioning, time is of the essence. Pick up the phone and call Michael's Services--we're your answer for complete refrigerator repair in the greater Phoenix area. We provide prompt, affordable refrigerator repairs to get your fridge back in working order ASAP. Whether you're a commercial chef with a fridge full of food or a busy mom with snacks and milk in the refrigerator, you need help fast if your fridge calls it quits... Don't risk losing hundreds of dollars of food. Save money by calling Michael's Services today!
Whether your fridge is making ominous sounds or isn't cooling at all, we're here to bring you the very best in refrigerator repair. At Michael's Services, we provide refrigerator repairs for most major brands and models, including high-end Sub-Zero fridges, so no matter what type of fridge you have, we're ready to help. Using the knowledge gained over more than 30 years in the appliance repair business, our experts can diagnose the problem with your fridge and provide complete refrigeration repairs to get it running again in no time at all. Specializing in quality workmanship and great customer service, Michael's Services is the expert to call when you need immediate fridge repairs. Let us help ensure that all of your food stays safely cooled with our fast, cost-effective refrigerator repair service.
Commercial Refrigerator Repair
Food safety is one of the most important issues for restaurants and commercial kitchens, so it's important to keep your refrigerators in top working order. If you're experiencing problems with your commercial fridge, Michael's Services should be able to help. Providing complete refrigeration repair for all types of commercial fridges, we can help minimize disruption to your kitchen and keep your food safe. Taking care of commercial refrigeration repair throughout Phoenix for over three decades, Michael's Services offers great prices and quality workmanship to keep your fridge running efficiently and effectively. Don't let a broken fridge impact your business--call now for commercial refrigerator repair service and our pros will take great care of you!
Refrigeration Repair
Refridgerator Repair
Refrigerators Repair