Washing Machine Repair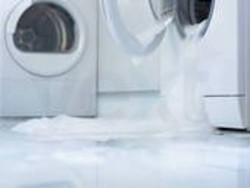 Has your washer suddenly developed a leak? Does a strange thumping noise accompany every load of wash? Is your washing machine skipping the drain or spin cycle? If you answered yes to any of these questions, it sounds like you need washing machine repair from the experts at Michael's Services! Serving the appliance repair needs of the greater Phoenix area for more than 30 years, we have the specialized knowledge and skill to handle even the most complex washing machine repairs. A broken washer doesn't have to be a major hassle--just call Michael's Services and we'll bring you the best in punctual, affordable, quality washing machine repair!
At Michael's Services, we provide washer dryer repairs for nearly every make and model of washing machine. Your full-service washing machine repair specialist in Phoenix, our professionals have the knowledge and hands-on expertise to efficiently and effectively repair just about any washing machine problem. From issues as complex as a broken pump to problems as simple as a loose bolt, we'll provide thorough diagnostics and troubleshooting to pinpoint the glitch and correctly repair it. Some specialty parts may have to be ordered, but we do carry most common washer and dryer repair parts in our truck, bringing you the convenience of immediate, on-the-spot repairs. A cost-effective solution for getting your malfunctioning washer back in great condition, Michael's Services is ready to be your washing machine repairs service. Why spend your hard-earned money on a brand-new washer when our pros can get your old washer working just like new? Call today to schedule your washer dryer repair call.
Commercial Washing Machine Repair
For business owners and property managers, Michael's Services is also pleased to offer commercial washer repair. With over three decades of experience handling the specific challenges of commercial washer dryer repair, our team of experts has the knowledge you can count on to do the job right the first time. From troubleshooting the root of the problem to implementing complete, correct commercial washer repairs, Michael's Services is here to get your commercial laundry appliances working again ASAP. We provide commercial washing machine repair for a wide range of customers, including:
Laundromats
Hospital and health-care facility laundries
Hotel laundries
Apartment complexes
Providing top-quality, prompt commercial washer repair at a great price, we're here to ensure a broken washing machine doesn't disrupt business as usual. Call or send us an e-mail today for more information about our washer and dryer repairs and your company.
Washing Machine Repairs
Washer Repair
Washing Machines Repairs